In January 2009, Nyasia Pryear-Yard — a 17-year-old honors student and a popular cheerleader at Nazareth Regional High School in Brooklyn, New York — was struck and killed by a stray bullet while she was out with her friends at a dance party. After meeting with Nyasia's parents and classmates and hearing their concerns about the illegal guns flooding Brooklyn's streets, Senator Kirsten Gillibrand vowed to take action to stop the flow of guns being illegally trafficked into New York. On June 25, 2022, Kirsten and Nyasia's mother, Jennifer Pryear, joined President Biden at the White House as he signed the Bipartisan Safer Communities Act into law. 
The Bipartisan Safer Communities Act was the first major gun safety legislation to make it through Congress in nearly three decades. After years of mass shootings and mounting gun deaths with virtually no action at the federal level, this bill represented substantive progress, enacting a suite of commonsense reforms to help stem the tide of gun violence in the United States.
In less than a year and a half since its passage, it is already moving the ball forward on gun violence prevention both in New York and around the country. Kirsten has been watching its progress closely, and now she's releasing a new report examining how the Bipartisan Safer Communities Act has been keeping hundreds of guns off the streets and out of the hands of those who should not have them.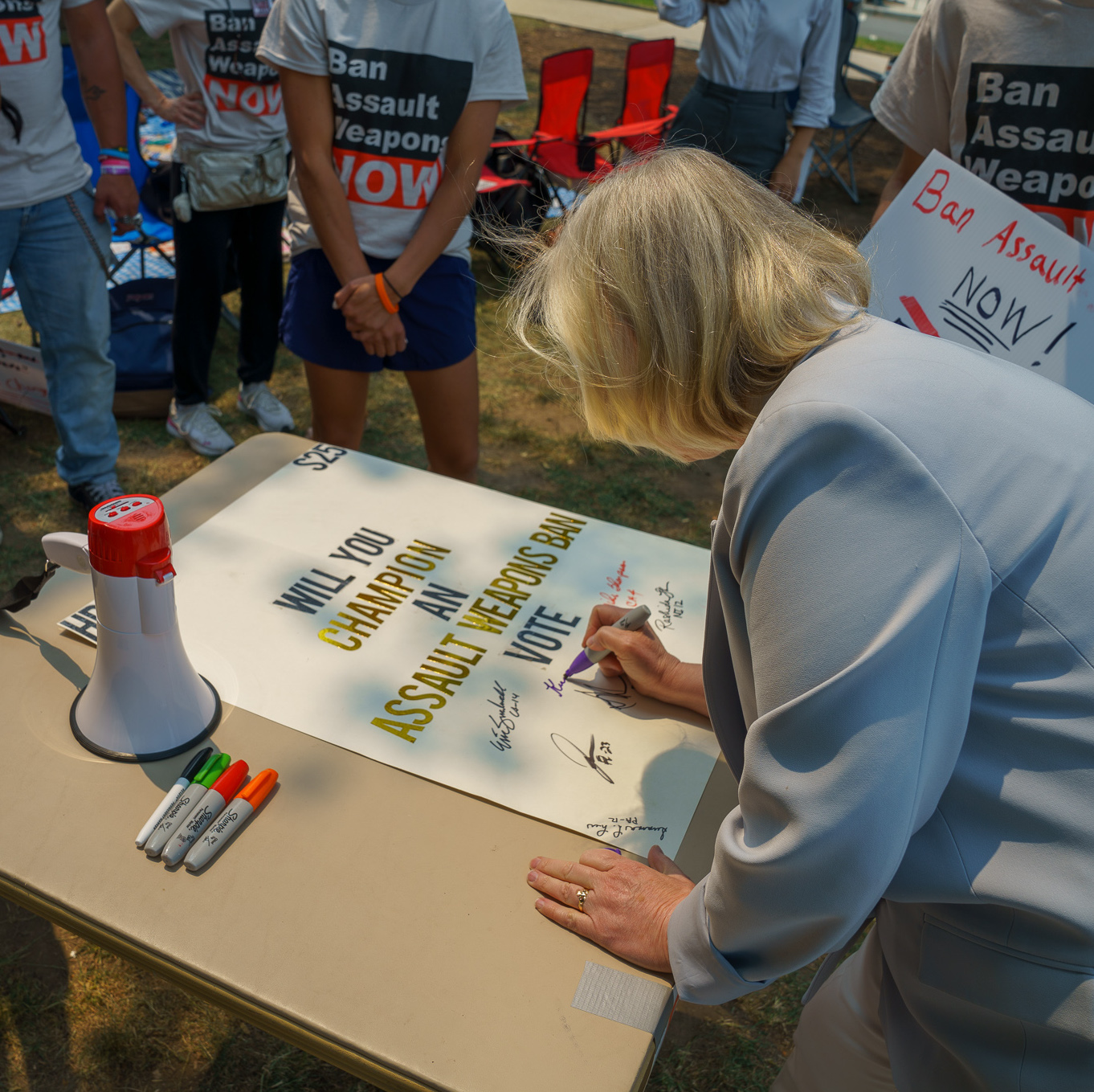 Getting Guns & Traffickers Off The Streets
As of October 31, 2023, 207 defendants across at least 20 states have been charged under the Bipartisan Safer Communities Act's new gun trafficking statute.
Law enforcement has seized over 1,300 guns from suspected gun traffickers and their co-defendants, including over 120 in New York State. 
At least 190 of the guns seized by law enforcement were AR-15s or AR-style weapons – the same type of firearm used to commit some of America's deadliest mass shootings. Authorities have also seized at least 151 ghost guns and at least 176 confirmed or suspected machine gun conversion devices — dangerous weapons that enable criminals to circumvent firearm regulations.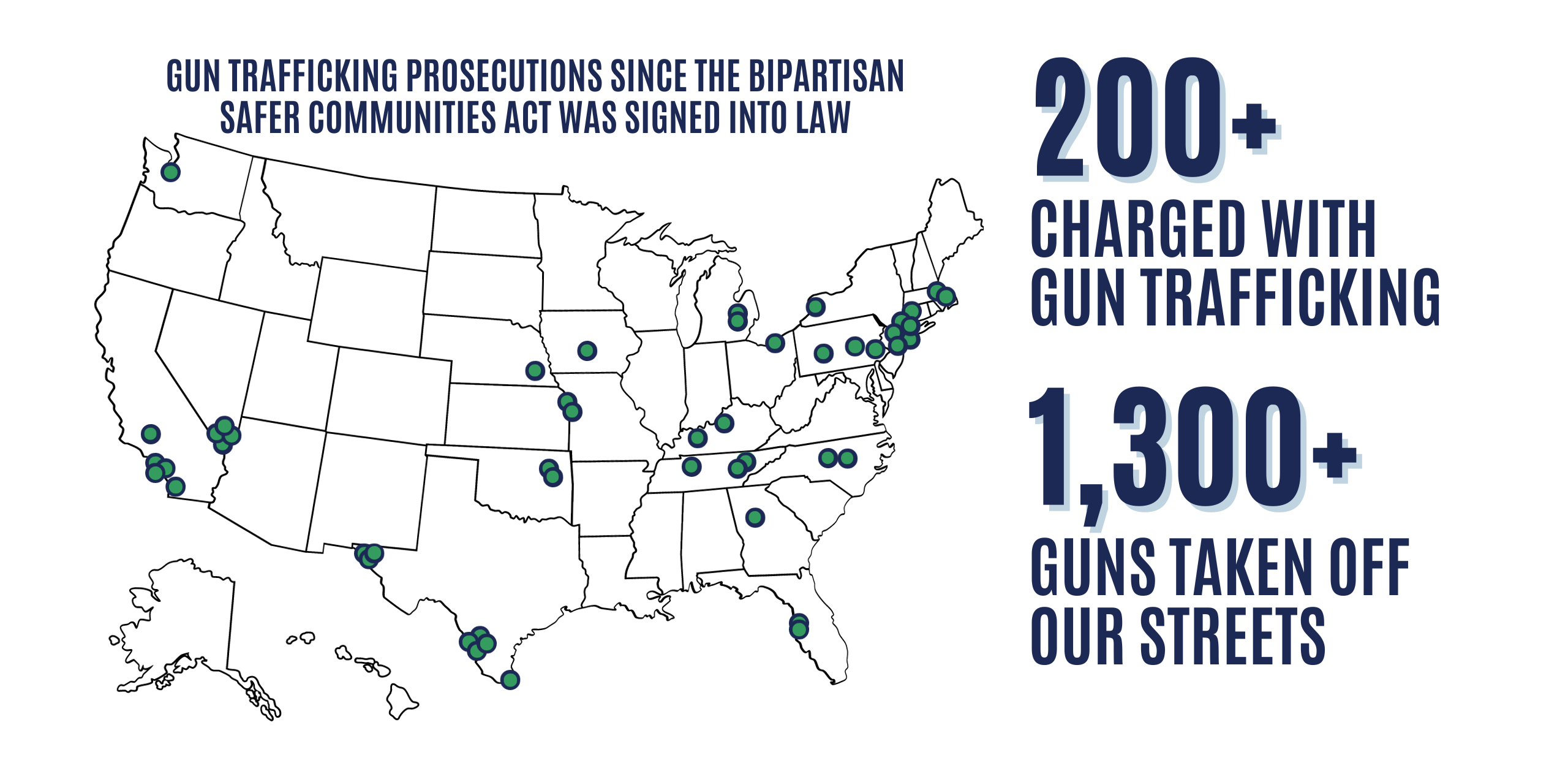 A tribute to
nyasia pryear-yard
Kirsten introduced her gun trafficking legislation in honor of Nyasia Pryear-Yard, a 17-year-old victim of gun violence from Brooklyn. The core of that bill eventually became part of the Bipartisan Safer Communities Act, and the new gun trafficking statute is already being put to use in Nyasia's home borough of Brooklyn. In January 2023, authorities arrested four men and charged them with firearms trafficking conspiracy after they sold at least 50 guns to an undercover NYPD officer in Canarsie — only about four miles away from where Nyasia was killed. The men trafficked firearms from Virginia for the explicit purpose of selling them on the streets of New York. This was just the first application of the law in Brooklyn, but it will not be the last. As implementation continues, more and more gun traffickers will be brought to justice, and more and more illegal firearms will be taken out of circulation. The Bipartisan Safer Communities Act offers hope that we will not only be able to honor Nyasia's memory by holding violent criminals accountable, but also prevent tragic deaths like hers in the future.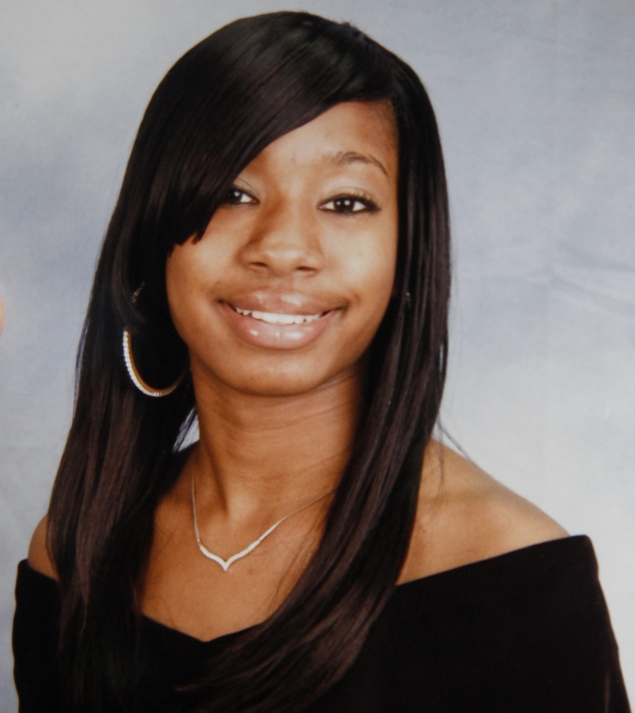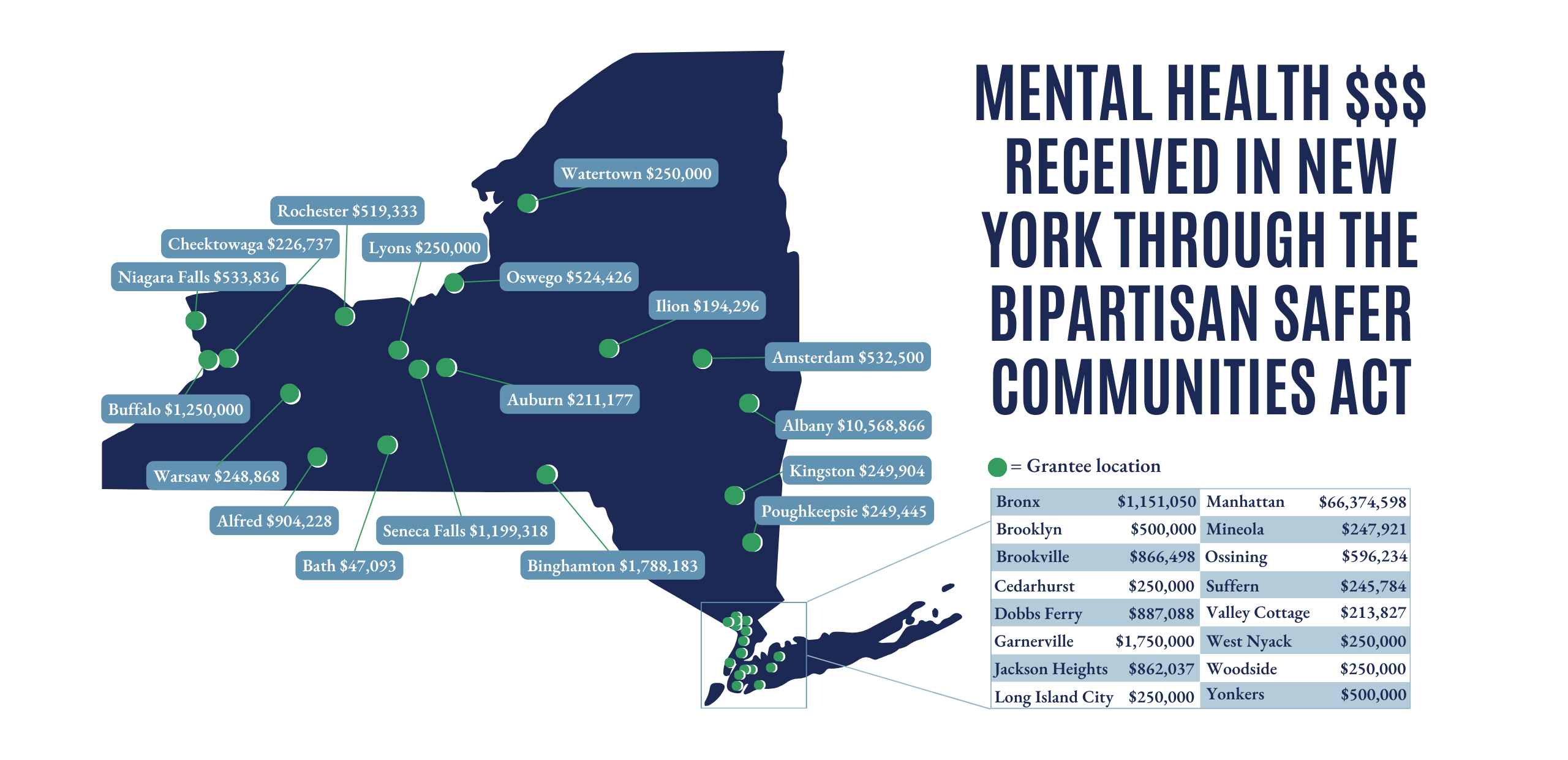 Funding Mental health services
Another key goal of the Bipartisan Safer Communities Act was addressing the systemic gaps in our mental health care system. Mental illness is not itself a reliable predictor of violent behavior; in fact, most individuals with mental health issues will never commit any violence at all. However, violence is somewhat more likely when serious mental illness is involved, and the sheer volume of gun violence in the United States has left many communities suffering with the psychological aftereffects of a shooting. Ending the gun violence epidemic also requires tackling these unmet mental health needs.
Thanks to the Bipartisan Safer Communities Act, the federal government has already awarded over $750 million in funding for mental and behavioral health services and programming, including nearly $100 million for New York State and New York-based organizations.
The Bipartisan Safer Communities Act represents a significant step forward in the fight against gun violence. Already, it has taken hundreds of illegal firearms and dozens of ghost guns off the streets, disrupted gang activity and gun trafficking rings from coast to coast, and delivered millions of dollars to bolster our nation's mental health system. While the law's impact will take time to be fully realized, its successes so far offer much reason for optimism.
However, Congress can't rest on its laurels. U.S. gun deaths declined slightly in 2022, but they remained historically high, and the epidemic of gun violence continues to rage across the country. Even as implementation continues, the Bipartisan Safer Communities Act should serve as the floor for action rather than the ceiling.
That's why Kirsten is working hard to build on our progress and find lasting, bipartisan solutions to one of our country's most pressing, pervasive, and deadly problems.