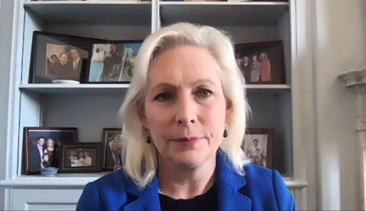 **WATCH Senator Gillibrand's Full Remarks HERE**
Today, U.S. Senator Kirsten Gillibrand held a video press conference to address the violent insurrection at the U.S. Capitol, incited by President Trump.
Below are Senator Gillibrand's remarks as prepared for delivery:
Yesterday, members of both chambers of Congress gathered inside the Capitol to certify the electoral votes, what is normally a ceremonial and routine step in our nation's process for a peaceful transition of power. We were met with a growing mob of people, inflamed by the dangerous and purposefully deceitful rhetoric of President Trump, who forced their way into the Capitol in an attempt to overturn the election.
It is our job as senators to represent the will of the American people in Washington. That meant making it clear that while this appalling and failed insurrection was a temporary disruption of the democratic process, it was not a disruption of our democracy. So, after the unprecedented violence in our Capitol came to an end, we set out to fulfill our constitutional duty and our responsibility to the American people who have made it clear they want a government that respects their voices, their values, and their votes.
Carrying out our duty meant, first and foremost, returning to the chamber to certify the remaining electoral votes. That is how elections are conducted in this country – not by mob rule. In the days ahead our duty will require us to push for accountability – for every rioter who desecrated the capitol, for the president who incited them.
Every option available – from invoking the 25th Amendment to impeachment and removal to criminal prosecution – should be on the table. These options will require the vice president, cabinet members, and Republican members of the Senate to hold the president accountable in a way they never have before. If they fail to do so, history will rightfully judge them as complicit.
And regardless of what transpires in the next two weeks, both Congress and the Department of Justice must undertake a thorough investigation of these events: how they happened, why planning for this protest was woefully inadequate, why these rioters were not treated as criminals, and the involvement of radical white supremacist websites and groups in inciting the violence. More broadly, we must assess and redress the role of ultra conservative media that purports to be news but only offers misinformation and division and the role and power of unchecked social media to divide our nation. And many members must look at themselves in the mirror, and understand the cost of indulging conspiracies—four people lost their lives yesterday, and we are lucky it wasn't more.
We need a return to what's right; it is the only way we can heal. Voters made it clear in November that they were sick of division and discord. The actions of this mob did not change the outcome of that election. President-elect Biden and Vice President-elect Harris will be sworn in on January 20, and we will turn the page on this dark chapter of American history. When we do, we can begin the necessary work of repairing the damage done by the current administration and rebuilding our democracy.
Finally, the FBI is actively seeking information that will assist them in identifying individuals who participated in the violence in Washington, DC. Members of the public with tips can call ?1-800-CALL-FBI (1-?800-225-5324), or go to tips.fbi.gov.
Now, we can open it up for questions.