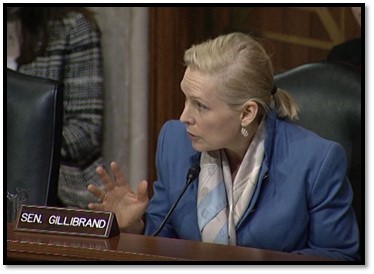 ***Watch Senator Gillibrand at EPW Hearing HERE***
Washington, DC – Today, U.S. Senator Kirsten Gillibrand, a member of the Environment and Public Works (EPW) Committee, questioned federal officials on the health risks of per- and polyfluoralkyl substances (PFAS) for communities across the country contaminated by these toxic chemicals. During an EPW Committee hearing today, Gillibrand called on officials from the Centers for Disease Control and the National Institutes of Health to explain the health risks of new chemicals developed to replace PFOA and PFOS (two types of PFAS) and what the federal government can do to prepare the victims of PFAS exposure to serious health consequences that will develop. PFAS are a group of manufactured chemicals that are persistent in the environment and can seep into drinking water supplies. These toxic chemicals have been linked to cancers and other serious health and developmental effects.
In her opening remarks, Gillibrand cited the devastating health concerns for New York residents in communities contaminated by PFAS, such as Hoosick Falls and communities surrounding Stewart and Gabreski Air National Guard Bases. She also submitted for the record the testimony of two New Yorkers detailing their experiences and their families' experiences with exposure to PFAS chemicals in their drinking water.
"Mothers and fathers in Hoosick Falls, New York – right down the road from my home – are crippled with fear about whether their children will be safe. Whether the water they bathe their children in, whether the water they cook food for their families in, has created a toxin in their bodies, in their blood that they won't be able to recover from. It is a huge issue… PFAS is also hurting families near the Stewart and Gabreski Air National Guard Bases in New York," said Gillibrand in her opening remarks. "Access to clean drinking water is a right, and protecting clean water must be central to the work we do for all of us. This is not a partisan issue."
Gillibrand has been one of the leaders in the Senate in fighting to protect communities exposed to PFAS chemicals. She helped secure $10 million dollars in federal funding for the Centers for Disease Control and Prevention (CDC) to conduct a nationwide study on PFAS health effects. Gillibrand also led the charge in demanding that the Trump Administration release the Department of Health and Human Services study it was trying to keep secret that revealed PFAS poses a danger to human health at lower levels than EPA was telling the public. In addition, Gillibrand helped secure $20 million for PFAS cleanup in the Fiscal Year 2019 Defense-Labor-HHS-Education Appropriations Act to communities that have suffered from PFAS contamination as a result of activity from the U.S. Air Force and Air National Guard.
Below are the questions Senator Gillibrand asked at the EPW hearing:
Questions for Dr. Linda Birnbaum, Director of the National Institute of Environmental Health Sciences and the National Toxicology Program at the National Institutes of Health:
We know that there are serious adverse health risks associated with PFAS chemicals. The science is abundantly clear, as I've heard from the families affected. This is such an important and powerful issue. Could you talk about some of the health risks associated with exposure to short-chain PFAS chemicals like GenX, which the industry has developed to replace PFOA and PFOS?
Could you tell us some of those affects for PFAS exposure, particularly for pregnant women and for children?
Do you think it's possible to develop a total PFAS or total organic fluorine method for testing and monitoring PFAS in drinking water and ground water?
Question for Dr. Patrick Breysee, Director of the National Center for Environmental Health/Agency for Toxic Substances and Disease Registry, Centers for Disease Control and Prevention:
What can the federal government do to prepare the victims of PFAS exposure for the serious health consequences, like cancer and kidney disease, that will expect to develop?