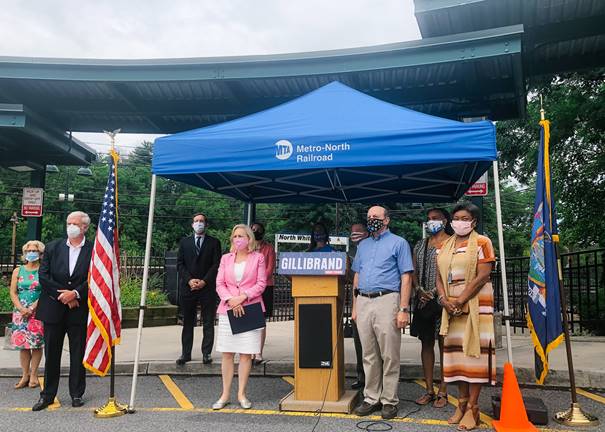 Today, U.S. Senator Kirsten Gillibrand, member of the Environment and Public Works (EPW) Committee, visited the North White Plains Metro-North station, to call for federal relief for the Metropolitan Transportation Authority (MTA) to be included in the COVID-19 relief legislation being negotiated in Congress. She was joined by MTA CEO Pat Foye, New York State Senate Majority Leader Andrea Stewart-Cousins, NYS Senator Shelley Mayer, NYSAssemblymembers Amy Paulin, David Buchwald, Steve Otis, and Catherine Rinaldi, MTA Metro-North Railroad President.
On July 21, Gillibrand sent a letter to McConnell requesting at least an additional $3.9 billion in federal funding for the MTA to be included in upcoming COVID-19 federal legislation to address the massive budget deficit the transit agency is facing through the end of this year due to revenue losses and increased COVID-19-related expenses.
"If left unchecked, the MTA's deficit will have devastating consequences on the lives of millions of New Yorkers – including the workers who rely on public transit agencies for a paycheck and the commuters who rely on the MTA's services to get to work," said Senator Gillibrand. "This is not only a question of keeping trains and buses and subways running – it's a question of keeping our economy running. We can't afford to fail commuters in the Greater New York City Area who could face raised fares and mass service reductions that leave them cut off from job opportunities. I will continue to call on Senator McConnell to allocate the essential federal aid the MTA has requested. The future of the MTA, of this is region, and of our state's economy depend on it."
"The MTA is the backbone of the New York metropolitan area. We rely on MTA to transport our frontline health workers, first responders, child care providers and more. For our economy to recover, we need a strong MTA to safely transport New Yorkers each day," said Representative Nita Lowey (D-NY-17), Chairwoman of the House Appropriations Committee. "That is why, as Chairwoman of the House Appropriations Committee, I fought to include $3.91 billion for MTA in the CARES Act and passed an additional estimated $3.9 billion in the Heroes Act in May. As the MTA exhausts its initial funds, it is more urgent than ever that the Senate pass the Heroes Act so the MTA receives the funding it needs to keep New York moving."
"The coronavirus pandemic has disrupted nearly every aspect of our daily lives. New York State is one America's great economic powers and a major 'donor state,' and the MTA, which is the nation's largest transportation network, is vital to our economic comeback. We need support and help from our federal partners and this is a time for decisive government action to help the millions of struggling New Yorkers trying to endure this crisis. I am proud to join Senator Kirsten Gillibrand in asking our federal partners to send New York State emergency funds for the MTA so our state can continue to reopen and jump start our economy," NYS Senate Majority Leader Andrea Stewart-Cousins said.
"I call on the federal government to provide essential funding for the MTA, including Metro North, in the next much needed COVID relief bill. Like so many institutions we rely on, our public transportation system — which is the engine for our region — has been devastated by the COVID-19 and the necessary closing of much of the economy. Our region depends upon this transportation system, and the costs of this pandemic cannot be placed on the ridership of our trains and buses. I thank Senator Gillibrand for leading the effort to secure these essential investments," said State Senator Shelley B. Mayer (D-Westchester).
Assemblymember Amy Paulin (D-Scarsdale) said, "Public transportation is our lifeline. New York wouldn't be New York without it. Every day the deficit grows, means every day we worry our transit system won't survive Covid. Until we have a vaccine, ridership and revenue are diminished. Please federal government, keep us riding, don't just sit and watch the closing doors."
"Recovery from our region's pandemic-induced economic downturn will be seriously undermined if our commuter rail and other mass transit systems are brought to their knees by a lack of financial help from Washington. It is time for Congress to come together with meaningful help for the MTA to prevent further serious harm to our struggling businesses and workers," said David Buchwald, New York State Assemblyman (D-White Plains).
"Mass transit is the lifeblood of our economy. Federal assistance for MTA and mass transit throughout the country is an indispensable part of our nation's effort to weather the COVID-19 pandemic. Thank you to Senator Gillibrand for her advocacy and Pat Foye for his leadership at MTA as we all fight together to obtain the federal support needed to keep mass transit running in our country," said Assemblymember Steve Otis (D-Port Chester).
"Mass transit is the lifeblood of Westchester's commuter friendly environment – and our region's reliance on mass transit will only grow in the future as we look to find ways to create a more sustainable environment. That is why this funding is so important. As we continue to deal with the fallout from this global pandemic, Westchester is grateful for what we have received from our federal partners so far but to be able to provide the services that our residents rely on – without having to tap again into existing revenue sources – we need them to step up once again. Our County thanks Senator Gillibrand for once again sounding this alarm and her constant attention to the needs of the folks who call Westchester home," said Westchester County Executive George Latimer.
"Washington simply cannot allow August to end without including additional emergency relief of $3.9 billion for the MTA," said Patrick J. Foye, Chairman and CEO of the MTA. "The unprecedented fiscal tsunami faced by our organization is too massive to weather alone. The economic recovery of New York State, and the country's by extension, hinges on the ability of the MTA to transport customers safely and efficiently. We can't do this without substantial federal aid this year and next. Senator Gillibrand's leadership on this issue is critical; now Senate Republicans need to get on board. The time for action is now."
"The MTA desperately needs federal funding so it can continue to serve riders. Without $10.3 billion – plus aid for cities and states that will help support the agency – we're facing a doomsday scenario of service cuts, fare hikes and layoffs. We'll also be faced with Carmageddon as more people drive, instead of taking transit," said Randy Glucksman, Chair of the Metro-North Commuter Council and MTA Board member. "The Hudson Valley's economy – and recovery – will suffer. It's that simple. Metro-North continued to run during the height of the pandemic, getting front line and essential workers where they needed to go, and now the Railroad needs a lifeline. Supporting transit isn't a New York issue, it's a national issue. The New York metropolitan area supplies 10% of the nations' economy. Ensuring that funding for transit is in the next relief bill will take strong national leadership. Public transportation across the United States is essential for many reasons, including preserving the environment, getting people to work and school and to all of life's activities. We thank Senator Gillibrand for taking on this important role and know that she and Senator Schumer will continue to fight for riders and for this critical funding."
"The MTA's transit system drives the economy of the Tri-State region and is essential to Long Island's way of life. If federal funding doesn't come through for the Long Island Rail Road and for our cities and states, we're staring at service cuts, fare increases, and the loss of thousands of jobs – many of them Long Island residents," said Gerard Bringmann, Chair of the Long Island Rail Road Commuter Council. "We won't see the new train cars, station improvements, accessibility projects and signal upgrades that Long Island Rail Road needs and Long Islanders deserve. The MTA needs $10.3 billion through 2021 or every worst case scenario will come through and the entire region's economy and recovery will suffer. Securing additional federal funding that includes relief for transit and cities and states is crucial and we appreciate Senator Gillibrand's leadership."
Andrew Albert, Chair of the New York City Transit Riders Council and MTA Board member said, "The MTA is in the direst fiscal situation it has ever faced: the agency is literally going broke helping move New York. Support from the federal government has come to-date in the form of $3.9 billion through the CARES Act thanks to Senators Gillibrand and Schumer; that funding has since been exhausted. Without another infusion of emergency federal funding relief –a total of $10.3 billion through the end of 2021 – riders will be faced with deep service cuts, reduced cleaning, fare increases, layoffs, and a significant reduction in the MTA's capital program. All of that has the potential to begin a downside into a transit death spiral from which it would take years – even decades – to come back. As much as $12 billion will be needed through 2021 if city and state aid are not included in a funding plan – and if congestion pricing continues to be held up in Washington. We thank Senator Gillibrand for her leadership and for continuing to fight for transit riders."
"We thank Senator Gillibrand for championing federal funding for New York's mass transit systems. The MTA alone accounts for 40% of the nation's transit riders, who are counting on New York's powerful Congressional delegation to deliver the aid needed to ensure that our trains and buses can keep running," said Rachael Fauss, Senior Research Analyst, Reinvent Albany.
Julie Tighe, President of the New York League of Conservation Voters said, "Abandoning the MTA and the Port Authority is not an option. Our region cannot handle more cars, congestion, vehicle emissions, and air pollution. An unfunded MTA would leave behind the environmental justice communities who rely on public transportation most and who have long suffered a disproportionate burden of pollution. We need Congress to make sure vital investments in our public transportation system are included in the next COVID-19 relief bill. Reliable mass transit is essential to combating the climate crisis and protecting public health. Thank you Senator Gillibrand for your continued leadership and support."
"Congress needs to rescue the MTA to keep subways, buses, commuter trains, and paratransit running through 2021. The agency needs over $10 billion to take it through the next year and make sure it doesn't run out of money while Congress is out of session. Congress Members across the country should recognize the pivotal role transit plays in our regional, national, and global economies and deliver for riders and the cities and states that depend on them. Thanks to our own Senator Kirsten Gillibrand for championing transit riders in aid negotiations in Washington," said Riders Alliance Executive Director Betsy Plum.
"The latest stimulus proposal from Congressional Republicans is yet another example of Federal mismanagement: pouring billions of dollars into military spending while the country's infrastructure stays on the back burner," said Felicia Park-Rogers, Director of Regional Infrastructure Projects for Tri-State Transportation Campaign. "Without sufficient funding for public transit, the Trump Administration is essentially leaving millions of essential works out to dry. We commend Senator Gillibrand for fighting for transit riders and for understanding the critical role that transit plays in the basic functioning of our country as well as for a resurgence of our economy."
"The greater New York metropolitan area can't recover without the full recovery of our regional transit system, and the country can't rebound without the tri-state area's complete recovery. The Senate must provide the emergency funds necessary to carry the MTA through 2021 before it goes into recess next month. We're grateful to Senator Gillibrand for underlining the depth of the crisis facing the MTA," said Eric McClure, Executive Director of StreetsPAC.
The MTA is one of the largest transit systems in the world, with an average ridership of eight million people in the Greater NYC Metropolitan area using the subways, buses, and railways each weekday before the COVID-19 pandemic. During the height of the pandemic, subway ridership plummeted by about 90%, with an average of 505,000 daily riders on buses in April and May. As of late July, ridership on the Metro-North's three major lines was nearly 46,000 compared to 283,000 for a normal weekday during the same time last year.
U.S. Senator Kirsten Gillibrand, member of the Environment and Public Works (EPW) Committee, recently sent a letter to Senate Majority Leader Mitch McConnell (R-KY) requesting at least an additional $3.9 billion in federal funding for the Metropolitan Transit Authority (MTA) be included in upcoming COVID-19 federal legislation to address the massive budget deficit the transit agency is facing due to loss revenue and fare loss.
Earlier this month, Gillibrand joined 24 colleagues in urging Senate leadership to provide an additional $32 billion in emergency supplemental funding through 2021 for public transit agencies in the next COVID-19 stimulus package.