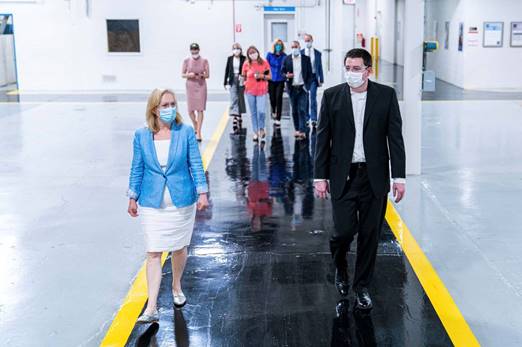 Today, U.S. Senator Kirsten Gillibrand toured the Corning Glass manufacturing facility as it prepares to expand manufacturing and production of glass vials in preparation for the COVID-19 vaccination. Earlier this month, the Biomedical Advanced Research and Development Authority under the U.S. Department of Health & Human Services awarded the Corning glass manufacturer more than $200 million to substantially accelerate manufacturing surge capacity of glass vials that are critical to the production of billions of doses of life-saving medicines. The investment will lead to the immediate scale up of glass manufacturing assets in New York.
"I'm thrilled that Corning was chosen to expand their production capabilities during this crisis. Their hard work in months to come will keep New York on the frontlines of our federal response to the COVID-19 crisis," said Senator Gillibrand. "I have no doubt this facility is capable of stepping up to the challenge of manufacturing glass vials essential for the lifesaving COVID-19 vaccine that will help our communities stay healthy. This is exactly the kind of resilience and dedication that New York businesses are known for. I am so grateful for their work and the opportunity to visit the site of this enormous project."
"Corning is honored to be selected by the Department of Health and Human Services and the Department of Defense to provide Corning Valor® Glass packaging for Covid-19 vaccines and treatments," said Ron Verkleeren, senior vice president and general manager of Life Science Technologies. "Senator Gillibrand has been a long-time supporter for Valor Glass and a great advocate for Upstate NY, Corning and our Country. She worked tirelessly in support of the CARES Act legislation that made this investment possible. This agreement is a shared accomplishment for Corning, our customers, the government, our supporters and ultimately the American people."
As researchers work to quickly develop a vaccine for coronavirus, the federal government is preparing a massive expansion of manufacturing to build the necessary infrastructure to meet the anticipated demands of distribution. The $204 million in federal funding for Corning Inc. will help cement Big Flats as a pharmaceutical manufacturing hub and keep New York on the frontlines of the nation's battle against the COVID-19 pandemic. The funding will be used to bring production on-line more quickly to produce the glass vials for the vaccine that will keep Americans healthy and safe.